Providing exceptional dental care in an environment of extraordinary service.
Maintaining your oral health requires both daily personal habits and an ongoing relationship with a dental professional. Preventive dental care is not something that is practiced occasionally but rather every day of our lives. Our mission at Crabtree Dental is to "become lifetime partners in the oral healthcare of our patients by providing exceptional dental care in an environment of extraordinary service." It is our pleasure to provide this level of dental care to residents of the Cinco Ranch and surrounding neighborhoods in our Katy community.
At Crabtree Dental our patients schedule an appointment to see one of our dentists for a comprehensive or limited examination on their first visit. If you prefer to communicate in Spanish let us know so we can schedule your appointment with Dr. Colby Crabtree, who is fluent in both English and Spanish. Please help us schedule the type of appointment that addresses your needs by choosing one of the following visit types:
Comprehensive Visit: During this visit, the patient's mouth will be evaluated comprehensively by one of our dentists. A thorough evaluation of both the soft and hard tissues of the mouth will be performed. Such an examination may include the evaluation and recording of cavities, missing or unerupted teeth, existing dental restorations and prostheses, occlusal relationships, periodontal conditions, and hard and soft tissue anomalies. Bitewing and/or panoramic x-rays will be necessary to perform a thorough examination. Aesthetic concerns of the patient will be addressed. If you are under 25 years old, one of our dental hygienists will also perform a thorough cleaning (prophylaxis) and polish and floss your teeth during this appointment. Patients under the age of 19 will also receive a fluoride treatment.
If you are scheduling a first visit for your child, please know that it is our goal to ensure their first visit is a happy one.
Limited or "problem focused" Visit: During this examination focus is placed on an acute oral health problem you are experiencing. The dentist will perform a visual examination limited to a specific dental issue. The sensitive area will be examined and any necessary testing to diagnose your condition will be conducted. An x-ray will often be needed to complete the diagnosis. Depending on the diagnosis, treatment could occur during this appointment or be scheduled to be performed on a subsequent visit.
Effective patient scheduling.
Which first visit should I schedule, comprehensive or limited?
We will always recommend a comprehensive examination unless you are experiencing pain or discomfort that interferes with your ability to go about your daily activities. Here's why:
A comprehensive exam includes the limited exam. When the dentist performs a comprehensive evaluation of the hard and soft tissues of your mouth they examine every tooth, your gums, bone structure etc. This means that the problem area will be examined thoroughly as part of the appointment. A comprehensive exam is a more cost effective approach to oral health problems whether you pay for fees out of pocket or with assistance from a dental insurance plan. Both your pocketbook and your insurance benefits are more wisely managed when you begin with a complete oral health picture.
You may have a more severe dental problem than the one you are currently experiencing. The comprehensive exam allows the dentist to evaluate the entire mouth instead of focusing on a specific problem in an isolated region. When you have the full picture, you are able to prioritize treatment. This in turn enables you to make wiser oral healthcare decisions.
Your time is valuable! Starting with a comprehensive exam provides you with your complete oral health picture in one appointment rather than two.
What information will I need to provide over the phone?
From the first telephone call, we want to get to know you. You'll know that right away because we'll be asking you some important questions. At Crabtree Dental, we aim to provide exceptional dental care in an environment of extraordinary service. This extraordinary service begins when our administrative team gathers the best information to fully prepare our care providers for your new patient appointment.
Please prepare to provide the following information relevant to your dental health when you call to schedule your first appointment.
Your full name, contact information and birthdate.
Whether you would like to schedule for a comprehensive or limited examination.
When was the last time you have visited the dentist and/or had your teeth cleaned?
The last time you had dental x-rays taken. (If your x-rays are current, provide contact information from your previous dentist and eliminate the need for duplicates)
Do you have a history of dental restorations such as fillings, crowns, bridges, etc. ?
Have you ever been diagnosed with gum or periodontal disease?
Will you be utilizing dental insurance benefits? (If so, have your insurance ID card ready to provide ID numbers including social security number and plan information.)
Please share with us if you are interested in a cosmetic smile evaluation.
Please share anything else we should know to help make your visit more comfortable.
Will my teeth be cleaned on the first visit?

Our patients often ask this on the first phone call. Delivering exceptional care means it is sometimes necessary to assess your cleaning needs before a hygienist can perform your cleaning.
+ If your first visit is limited or problem-focused in nature
Your teeth will not be cleaned at your first visit.
+ If you are 24 years of age or younger
The type of cleaning you are likely to need is fairly predictable. Therefore, one of our dental hygienists will perform a thorough cleaning (prophylaxis) on your first comprehensive visit.
+ If you are 25 years of age or older
We cannot guarantee your teeth will be cleaned at your first visit. The length of time needed to provide a thorough cleaning (prophylaxis) can vary widely depending on your periodontal condition. Adult cleanings can involve our hygienist anywhere from one visit at 30 minutes to two visits at 2 hours each visit. This is especially true the older you are and the longer it has been since you have had a dental cleaning (prophylaxis). As you can see that is a wide range of time, making it difficult to correctly assess your need over the telephone. During your comprehensive first visit, our dentists assess your periodontal condition and identify the length of time necessary to thoroughly clean your teeth. If the length of time needed coincides with an opening in our hygiene schedule the same day as your first visit, we will be happy to clean your teeth then. Otherwise, it will be necessary to schedule your cleaning for another day. This ensures that our hygienist will have the amount of time necessary to provide a thorough service. We are committed to providing the best periodontal and preventive care to our patients, and this means allowing enough time to clean all of your teeth, not just some of them. Remember, separating your cleaning visit from your examination will only be done when you are a new patient. Once your teeth have been cleaned the first time in our office we will perform your cleaning and examination together as we will be aware of your periodontal health and will be able to more accurately estimate the length of time needed to do a thorough dental cleaning.
Integrating insurance into the dentist-patient relationship.
Do you accept my dental insurance?
We accept your insurance as long as your plan offers the freedom to choose your dentist. Most plans provide you this freedom.
Are you in my dental insurance network?
100% of our insured patients visit us "out of network." They do so because they value the quality of services we provide. Do not let the fact that your insurance carrier is "out of network" keep you from enjoying the standard of care you expect. Most dental plans allow you to seek dental care outside of their network and unlike medical insurance plans often may not significantly reduce your benefit level for doing so. When you call to make your first appointment we can research your insurance and educate you as to how your insurance benefit can be very valuable at our dental office.
So, I should come to Crabtree Dental even if my dental insurance is out-of-network?
Yes! As mentioned above, most dental plans will allow you to seek dental care outside of their network. Many either do not penalize you for doing so or exact a penalty such as a 10% benefit reduction to do so. We find that patients would much rather pay a little more than continue care within a network that they cannot find a dental provider with which they are satisfied. Patients want to receive quality services from caring professionals in a comfortable environment, and many neglect dental care because they are dissatisfied with their "in-network" provider. Rather than go "in network" they stay home, only to find they would have been better off paying a little more by visiting the practice of their choice.
How do I know what my dental insurance will cover?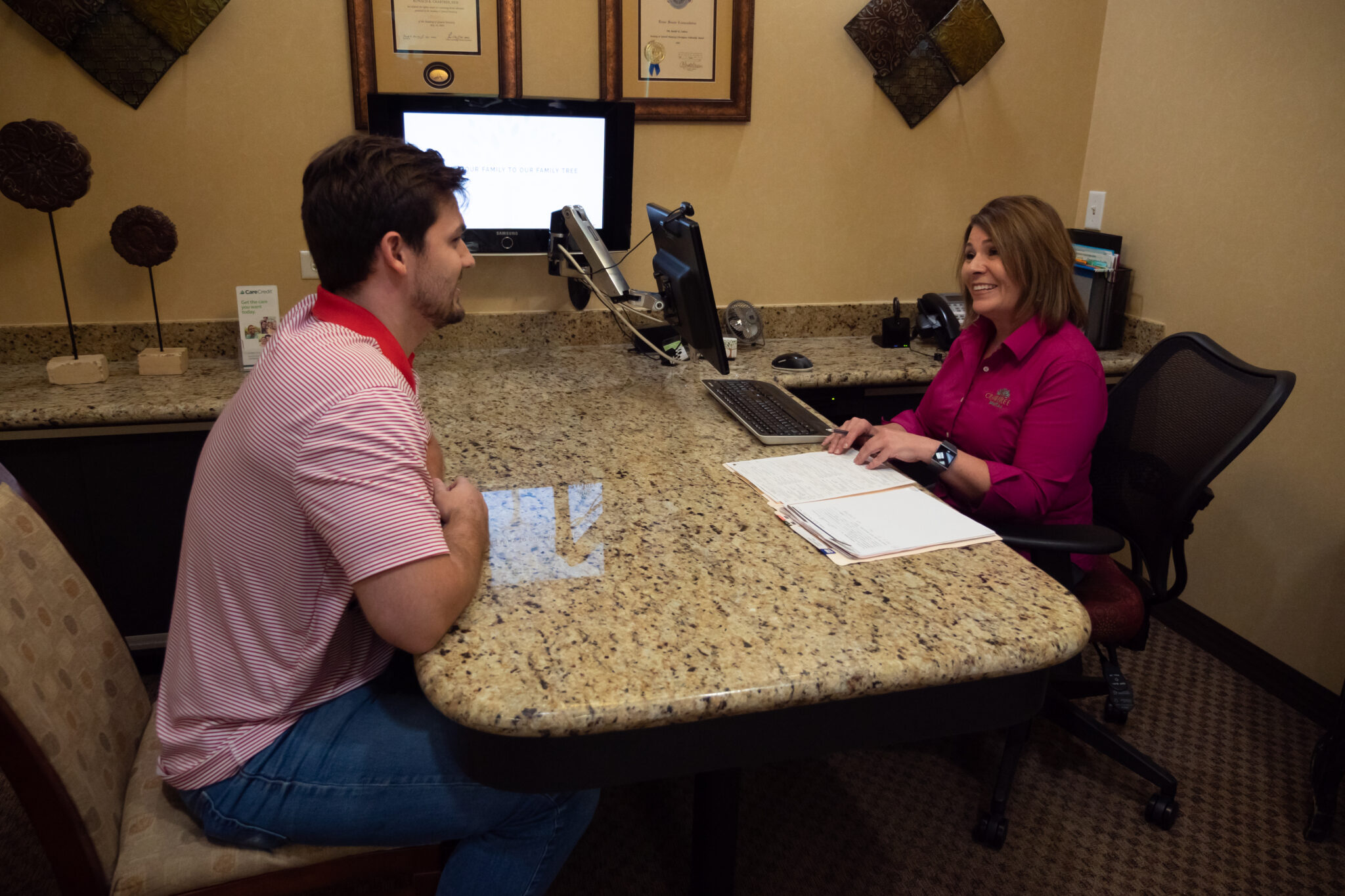 Once we verify your insurance we will be able provide an estimate for what will be due at the time of your visit. We spend a great deal of time researching your plan prior to your appointment. This is why it is important that we gather your insurance information well in advance of your appointment. This preparation also allows us to estimate your benefits at the time of service, reducing the likelihood of your having a balance due after the fact.
Undergirding every dental insurance plan is specific contractual language that spells out your dental benefit plan. We are not a party to that contract and therefore it is impossible to guarantee insurance benefits to any patient. We ask you to understand that we can only ESTIMATE dental insurance benefits. The patient is responsible for all costs of treatment. We communicate this in the following ways.
Upon registration, patients enter into a signed financial agreement which clearly communicates how we will handle their dental insurance.
Our written treatment plans clearly remind the patient that dental benefits are estimated.
When engaging in financial conversations with patients we endeavor to re-communicate the estimated nature of dental benefits and the responsibility of patients for their treatment fees.