Clean and green.
Infection Control Practices
Infection control is of the highest priority for the safety of our patients and staff. We take great measures to ensure our sterilization and disinfection procedures are effective in accordance with the requirements of the Centers for Disease Control (CDC) and the Best Management Practices of the American Dental Association (ADA). We have also implemented additional precautions during the COVID-19 pandemic per emergency rules determined by the Texas State Board of Dental Examiners (TSBDE). A few of these changes are outlined below: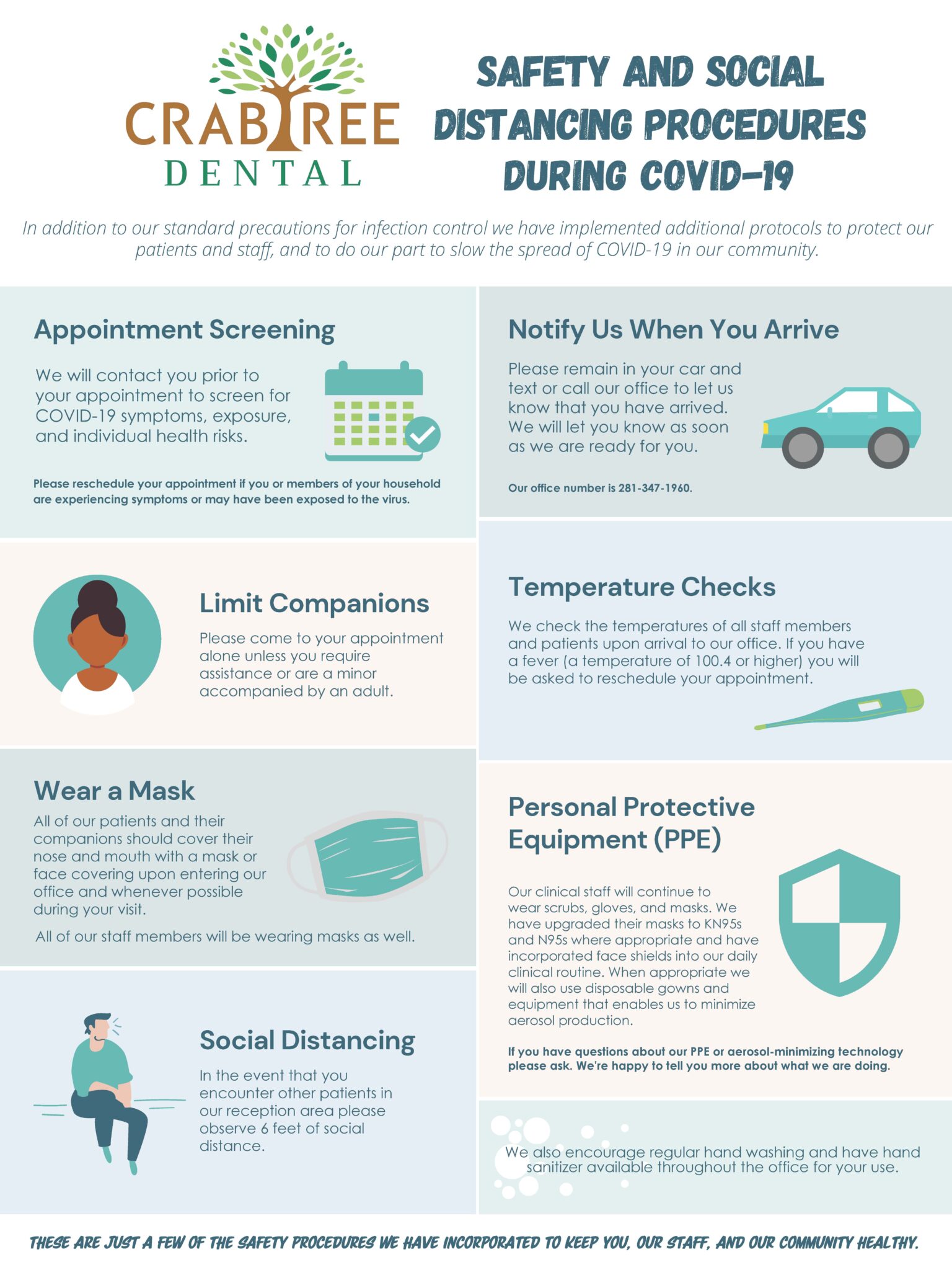 We also pay careful attention to the sterilization of the instruments used in our practice of dentistry. We process our instruments using four-steps: decontamination, packaging, sterilization, and storage. First instruments and equipment are transported to the sterilization area. Then they are sorted and cleaned prior to sterilization, and the waste properly disposed. Once clean, the instruments are packaged into sterile pouches and placed into a steam sterilizer called an autoclave. After they are sterilized, we store them in a dry, protected area until we are ready to use them.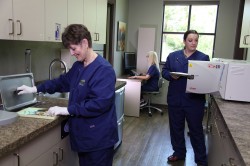 We further assure the sterility of our instruments through the use of several monitoring processes:
Mechanically: We pay careful attention to the time, temperature, and pressure of the sterilization equipment.
Chemically: We use heat-sensitive indicators that change color when a certain temperature is reached.
Biologically: We conduct weekly spore testing to ensure the most resistant microbial contaminants are eliminated during sterilization, signifying that common potential pathogens have also been killed.
Our precise sterilization standards enable us to safeguard against cross-contamination and are an important step in maintaining a safe, clean environment for you and your family.
In addition to caring for you and your family, we do everything we can to respect the environment without compromising our commitment to practice high quality infection control procedures. We assist our community with protecting the environment by embracing the motto "reduce, reuse, recycle" and by employing the green business practices listed below.
In our clinical areas we:
Utilize foot controls at all sinks to eliminate water waste.
Utilize laundered rather than disposal linens where appropriate.
Eliminate the use of x-ray film processing chemicals by using digital x-rays.
Utilize laundered rather than disposable clinical lab jackets.
Utilize steam sterilization in all practical cases.
Recapture and recycle amalgam waste.
Limit chemical sterilization to plastic materials that cannot withstand the heat and pressure of steam sterilization.
I
n our staff break area and business office we:
Recycle used printer toner cartridges.
Reduce paper waste by printing on both sides of paper where possible.
Reduce paper waste by utilizing digital portable document files (PDFs) where practical.
Utilize reusable cups, plates, and silverware in our staff kitchen rather than paper supplies.
Use filtered water rather than using bottled water.
Throughout our facility we:
Utilize a programmable irrigation system with rain sensor by-pass activation.
Use motion sensor lights, where practical, to reduce energy usage.
Use energy efficient light bulbs and recycle them.
Turn off computer monitors at night and set computers to sleep when inactive.
Turn off lights during lunch hour and after hours.
Utilize programmable thermostats to reduce energy usage for air conditioning and heating.
Reduce solar heat build-up from direct sunlight by drawing blinds.
Utilize energy star appliances and electronics when available.
Recycle electronics, rechargeable batteries, and light bulbs.
Recycle paper, cardboard, aluminum cans, steel cans, glass bottles and jars, aluminum foil, plastics, and scrap metal.
Make recycling easy by displaying a "What to Recycle/What Not to Recycle" reminder sheet.